Giclee Prints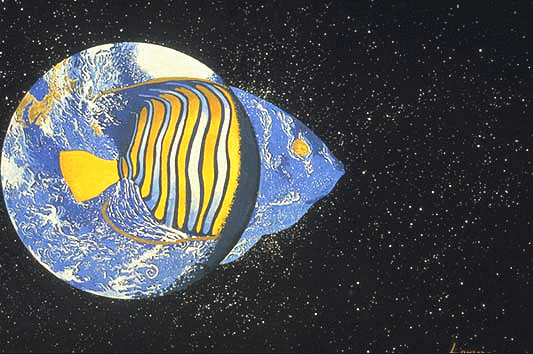 Earthfish
The artist had completed a diving trip to the Red Sea and was painting in Jerusalem when he created this vision of the analogy between a fish in the ocean and our planet in space. It has been used on the cover of the textbook THE SEARCH FOR LIFE IN THE UNIVERSE by Donald Goldsmith and Tobias Owen, and was the logo for the International Bioastronomy Symposium held at the University of California in 1993.
This title is available as a Giclee print. Giclee prints are digitally produced art, printed on canvas or paper using archival quality materials for many years of fade-free enjoyment. Paper offers a smooth finish while canvas is textured to appear similar to an actual painting. All Giclee prints are signed and have a minimum 2" white border on all sides.
Giclee print options:

All prices quoted in US dollars.
Copyright ©2010 Jon Lomberg. All Rights Reserved.