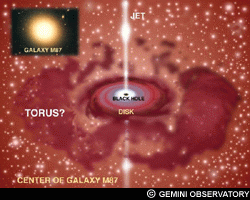 Lomberg's illustrations in books and magazines are well-known in Europe, Russia, and Japan, as well as in North America. He has often been commissioned by the Gemini and Keck Observatories in Hawaii to create images to help explain their newest discoveries.
His large, detailed and accurate painting of the Milky Way galaxy was on display for ten years at the Smithsonian Institution's National Air and Space Museum and is now part of their permanent collection of aviation and space art. He has designed exhibits for NASM and other major museums and in the U.S. and Canada.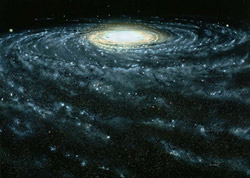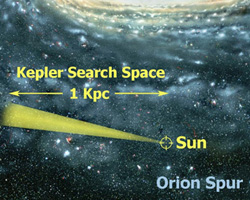 The portrait is currently being used by NASA's Kepler mission searching the galaxy for Earthlike planets. See the image here and here on the NASA website for the Kepler Mission.
The Kepler Mission also maintains a separate page of Jon's artwork here.
Click on the image detail at left to see a larger version of the entire portrait.
His most recent project has been the creation of the world's first large-scale, walk-through model of the Milky Way, done as a garden. Visit www.GalaxyGarden.net for details.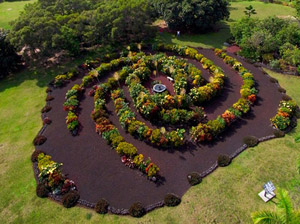 Jon Lomberg is also a well-known lecturer and stargazing guide. He has twice been a Regents Lecturer for the University of California. He now regularly presents his programs in Hawaii at the Kona Village Resort and aboard Radisson Seven Seas Cruise Lines.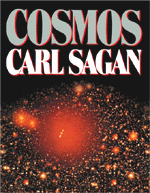 Jon Lomberg was the principal artistic collaborator of astronomer Carl Sagan. From 1972 until Sagan's death in 1996, Lomberg illustrated most of Sagan's books and magazine articles, and he was Chief Artist for Sagan's classic television series. For his work on COSMOS Lomberg received in 1981 a Prime Time EMMY Award for "Outstanding Individual Achievement in Creative Technical Crafts." Lomberg has art directed many other science programs for television and videotape.
In 1983, Lomberg's videotape with Carl Sagan about nuclear winter was broadcast worldwide and won first prize at the Vermont World Peace Film Festival in 1984.
From 1995-1997 Lomberg worked on the Warner Brothers film CONTACT, as Astronomical Visual Consultant. In this capacity Lomberg designed and storyboarded many of the film's astronomical animation sequences, including the three minute zoom out from Earth that opens the movie.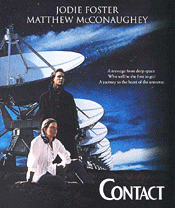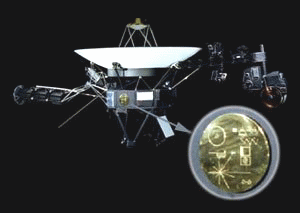 The artist has created some of the most unusual, durable, and far-flung artifacts ever produced by the human species. Lomberg's design for the cover of the Voyager Interstellar Record, predicted to last for over a thousand million years, may be the longest lived piece of human art ever made. He also designed a 10,000 year nuclear waste marker for the United States Department of Energy. Lomberg is the world's most experienced designer in creating messages for other times and other beings.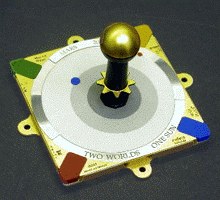 Jon Lomberg helped design the sundial carried aboard NASA's MER missions, which landed on Mars in January 2004. This sundial is an experiment for students to teach about how a sundial would work on Mars. The dial is decorated with the name of Mars in 16 present and past languages of Earth. Learn more about the Marsdial at Cornell University's Athena MER web site.
Jon Lomberg was the Project Director for a DVD called Visions of Mars, produced by The Planetary Society. It is intended as a gift for any future human explorers of the Red Planet who find the ancient spacecraft on the Martian surface centuries from now. Lomberg served as Editor-in-Chief for this project which documents humanity's long fascination with Mars as reflected in science fiction stories, artwork, and popular culture. Recently updated, the Visions of Mars DVD landed safely near the Martian north pole on May 25, 2008. The photograph shows the disk on Mars. More information about Visions of Mars can be found on The Planetary Society website.
To see larger images of either the DVD or its title screen click on their images below.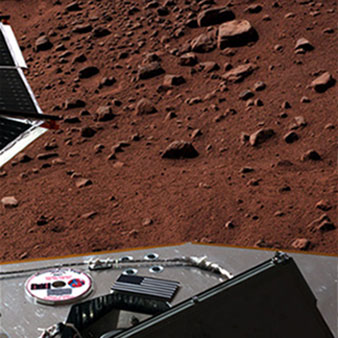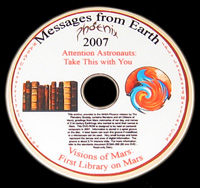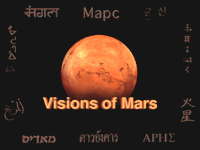 He has been commissioned by NASA many times to create images, posters, and displays, including a large graphic used at the Paris Air Show in 1987, and a poster on stellar evolution for the Space Telescope Science Institute.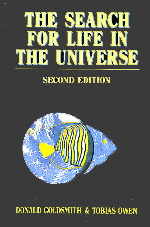 The artist has also illustrated two editions of the well-known bioastronomy textbook The Search for Life in the Universe by astronomers Donald Goldsmith and Tobias Owen. Lomberg has collaborated with Goldsmith on many other astronomy books, including Einstein's Greatest Blunder and Worlds Unnumbered.
Beginning in 1975, Lomberg has created award-winning radio documentaries about many topics in space and Earth sciences, broadcast internationally on the Canadian Broadcasting Corporation's program Ideas.
Since 1981, when he designed the Planetary Society's well-known sailing ship logo, Jon Lomberg has worked with that organization on many projects in the role of Senior Consultant. He has lectured on art and science at many universities, laboratories, and museums around the world, including the Bishop Museum in Honolulu, the Milwaukee Museum of Art and NASA's Jet Propulsion Lab. He has twice received the appointment of Regent's Lecturer for the University of California, at Irvine and at San Diego.
In 2002, Jon Lomberg received the prestigious Klumpke-Roberts Award, presented by the Astronomical Society of Pacific, one of the world's oldest and largest astronomy organizations. The Klumpke-Roberts Award is presented in recognition of an individual's outstanding contributions to the public understanding and appreciation of astronomy. Each year, the Astronomical Society of the Pacific's Board of Directors asks various individuals and institutions to nominate people for these awards. The ASP awards recognize meritorious work by professional and amateur astronomers, science educators, and those who engage in public outreach.
In 1998, on the occasion of his 50th birthday, Jon Lomberg was singularly honored by the International Astronautical Union, who officially designated an asteroid near Mars, previously called 6446 1990QL, as Asteroid Lomberg, in recognition of his many achievements in the field of science communication.