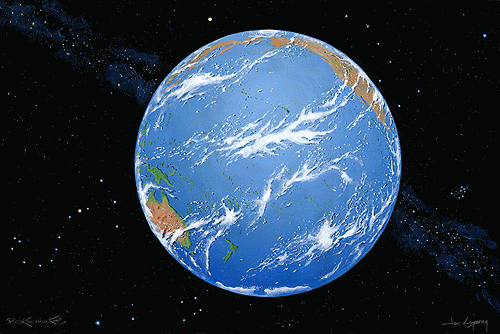 Ocean Planet
Artwork by Herb Kane and Jon Lomberg
Along with his skills as an artist and speaker, Jon Lomberg is uniquely gifted as a guide to the night skies. Groups ranging in size from 2 to 200 have been captivated, enlightened, and definitely entertained with his tours of the night sky.
Since 1986, when Carl Sagan recommended him as a lecturer to Royal Viking Cruise Lines, Jon has met enthusiastic audiences aboard luxury cruise ships and on the beaches of some of Hawaii's most beautiful resorts.
With naked eye, binoculars, and telescope Jon does so much more than point out constellations. He tells the story of the exploration of the Pacific from an astronomical point of view, explaining how Polynesian navigators pinpointed Hawaii by the stars-and does it so anybody can understand it! Jon also describes modern astronomy and connects the night's viewing with his own illustration work for the Gemini, Keck, and Subaru Telescopes on Mauna Kea.
Jon Lomberg has been an icon of the astronomical world for decades, having worked with Carl Sagan and others on some of the most high-profile NASA projects-the Viking Mission to Mars; the Voyager and Cassini missions to Jupiter, Saturn and beyond; the rovers now on Mars. Jon has worked closely with all these missions and his commentary on the planets is that of an informed insider.
Stargazing with Jon Lomberg is an unparalleled opportunity to fine-tune your understanding of the Cosmos and your place in it. The stars will never look the same.
For more information and bookings (click here)