Giclee Prints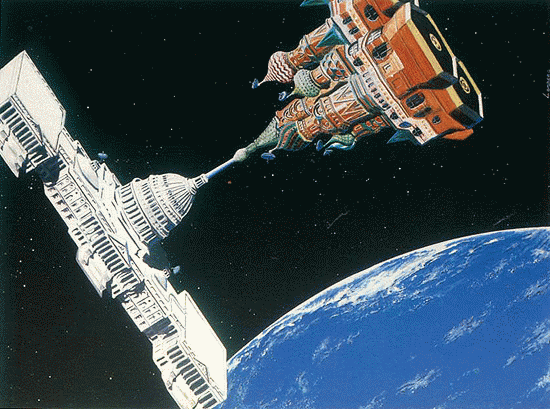 East Meets West
In 1987, Jon Lomberg was invited by the Soviet Academy of Sciences to display his work at the Space Future Forum, an international meeting held on the 30th anniversary of the launch of Sputnik I. The artist painted this image to symbolize the future of cooperation in space. The Capitol Building of the United States of America and St. Basil's Cathedral in Moscow, symbolizing their respective nations, dock in orbit around the Earth.
The planet Mars is seen just beneath the point where the two buildings link. A joint effort to explore Mars is a worthy goal of international collaboration between the two great spacefaring powers of Earth. The view of Earth is of the Eastern Pacific, from the cloud covered Bering Straits, where the continents "dock", to Hawaii, home of the artist.
This title is available as a Giclee print. Giclee prints are digitally produced art, printed on canvas or paper using archival quality materials for many years of fade-free enjoyment. Paper offers a smooth finish while canvas is textured to appear similar to an actual painting. All Giclee prints are signed and have a minimum 2" white border on all sides.
Giclee print options:

All prices quoted in US dollars.
Copyright ©2010 Jon Lomberg. All Rights Reserved.