Giclee Prints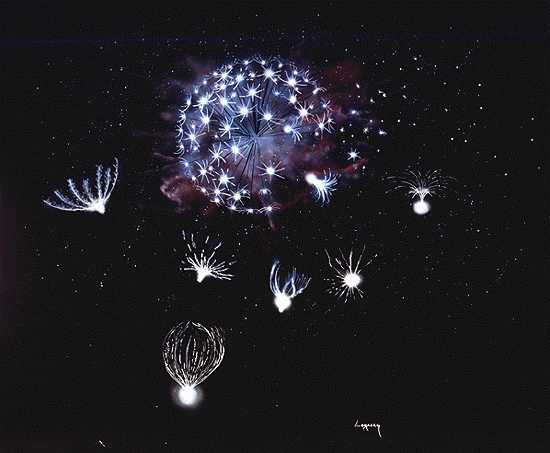 Starseeds
Young stars burst forth from a nebula, like seeds spreading through the galaxy. Just as seeds grow flowers that make more seeds, nebulae form stars that eventually form new nebulae. Cosmic cycles of life and death are apparent at all scales.
This painting was the inspiration for the dandelion motif that runs through the TV series COSMOS. Carl Sagan did not want his "spaceship of the imagination" to have a realistic, technological feel, and this painting brought forth the idea that the spaceship, when seen from outside, resembled a seed, blowing through the cosmos.
This title is available as a Giclee print. Giclee prints are digitally produced art, printed on canvas or paper using archival quality materials for many years of fade-free enjoyment. Paper offers a smooth finish while canvas is textured to appear similar to an actual painting. All Giclee prints are signed and have a minimum 2" white border on all sides.
Giclee print options:

All prices quoted in US dollars.
Copyright ©2010 Jon Lomberg. All Rights Reserved.