Original Art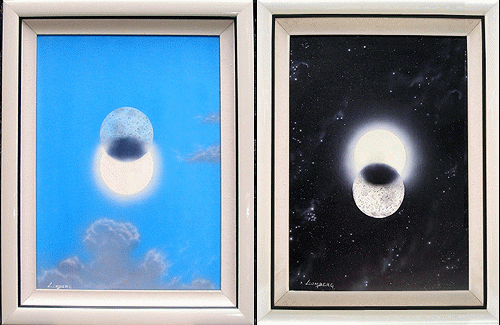 Blue Sky Eclipse / Eclipse From Orbit (Set of 2 Paintings)
These two pieces were painted just before the 1991 eclipse visible from Kona, Hawaii. One view is as seen in the morning sky of Earth and shows the stage of the eclipse just before totality. The other view is as seen from Earth orbit and shows the stage of the eclipse just after totality.
Each painting 24" x 30", acrylic on canvas, framed in white lacquer.
Signed by the artist.
The paintings may also be purchased individually.
To purchase this original art, the sales transaction must be processed manually. For assistance with placing your order, please contact us at lomberg@aloha.net.

All prices quoted in US dollars.
Copyright ©2010 Jon Lomberg. All Rights Reserved.