Original Art

Gravitational Lensing (Set of 3 Paintings)
This series of three small paintings was commissioned by Sky and Telescope magazine for an article about the phenomenon of gravitational lensing. The first of the three paintings was used as the cover art for Sky and Telescope magazine in 1982.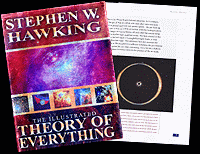 The third painting, showing a complete "Einstein Ring", was featured in the book, "The Illustrated Theory of Everything: The Origin and Fate of the Universe", by scientist and author Stephen Hawking.
Each painting, 8" x 7", watercolor on illustration board.
Signed by the artist.
Sold as set only.
To purchase this original art, the sales transaction must be processed manually. For assistance with placing your order, please contact us at lomberg@aloha.net.

All prices quoted in US dollars.
Copyright ©2010 Jon Lomberg. All Rights Reserved.