Original Art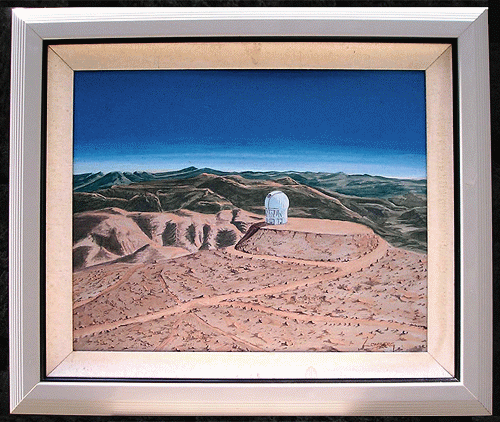 Observatory
Here is a rarity - a Lomberg landscape that is simply a realistic painting of a scene, in this case the observatory at Las Companas in Chile. It was painted for the production of the 1989 PBS special, MAUNA KEA: THE SEARCH FOR OTHER WORLDS. It served as the background for an animation sequence showing the wind currents in the Andes.
26" x 22", acrylic on canvas, framed in white lacquer (small stain on inner cloth matte, bottom right).
Signed by the artist.
To purchase this original art, the sales transaction must be processed manually. For assistance with placing your order, please contact us at lomberg@aloha.net.

All prices quoted in US dollars.
Copyright ©2010 Jon Lomberg. All Rights Reserved.