Original Art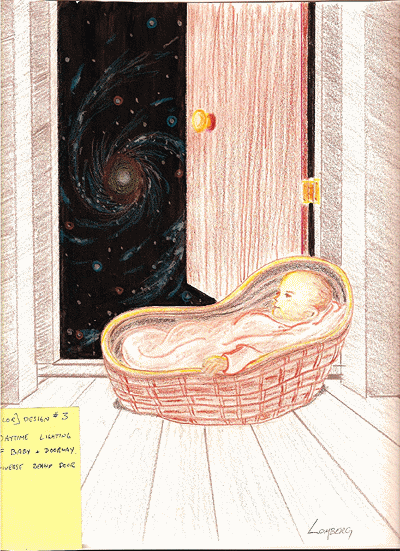 Shadows of Forgotten Ancestors Sketch 2
This is an alternate original sketch for the cover of the book, "Shadows of Forgotten Ancestors", by Carl Sagan and Ann Druyan.
9" x 11.5", colored pencils on white paper.
Signed by the artist.
Includes a handwritten post-it note on art saying:

[color] design #3
Daytime lighting
of baby and doorway
Universe behind door
May also be purchased in a set of 2 sketches.
To purchase this original art, the sales transaction must be processed manually. For assistance with placing your order, please contact us at lomberg@aloha.net.

All prices quoted in US dollars.
Copyright ©2010 Jon Lomberg. All Rights Reserved.